So today I decided to Link up with Jake and Holly! Because I just LOOVE
Holly
! But I dont ever comment or participate. And today I thought...what the hell! Lets go crazy! haha. Plus her
Hubby
totally rocks my blog design!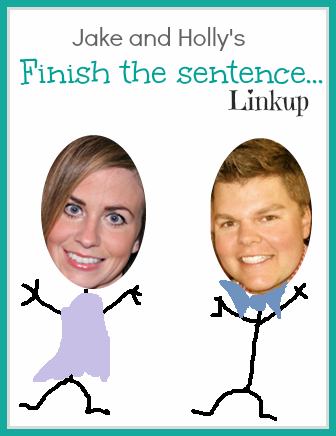 If I had one extra hour in the day...

I would take a nap! Being preggo...I need one!
I wish my name...

(I would only change my first name) to Talon; my mom originally wanted to name me that, but my grandmother said no...So I would change it to Talon Cecelia
I think anything chevron is...

Perty, Im not thaaaaat into it, but I'll wear it.
My last nightmare...

My baby was born 20 lbs! Holy mother! Could you imagine! lol..
Sometimes...

I just wanna give up and stuff my face with Taco Bell and cakes (all of them!)
My last meal on earth would be...

Hmmm...Maryland Blue Crabs, Lobster, Broccoli cheese casserole, mashed potatoes, Hawaiian sweet rolls with homemade garlic butter and a bottomless coke.
I would much rather be_smart____ than_ignorant___.
Mayonnaise...

Mayonnaise a lot of people doing this link up! muahahahaha!
10 years ago, I didn't think...

I would be alive or in love with a baby on the way.
Selfishly...

If I was a selfish person, I would get my nails and hair done every month, and take some of Jerm's money to go shopping! lol..but Im not selfish! And Im proud of that! I believe in providing for my family first!
My favorite show on TV right now...

I dont watch tv. But if I had to choose, Pretty Little Liars!
And, George Zimmerman...

All I have to say is, if Trayvon was alive to tell his side of the story, Im pretty sure it would be a totally different verdict. But whats done is done, and rioting on a busy Houston, Tx Highway where people could get hurt, killed is NOT the way to make your voice heard! Just sayin!