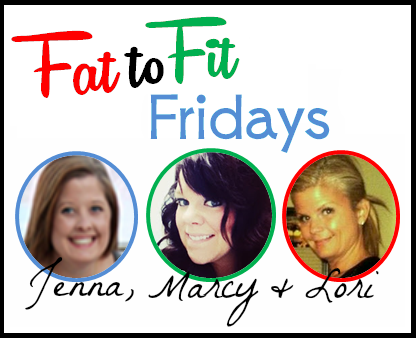 Hey Hey! It's Fat to Fit Friday Link Up timmmmmmeeeee!!!
30Day Shred Day 11th Day/ 19 Days left
I have actually been taking a few days off from the gym and the scale. I am starting to get overwhelmed by all the pressure I am putting on myself. All due to the fact that my knee is all jacked up!
Seriously...it hurts! I've been icing it like 2 times a day and then taking an ice bath at night.
Although, I have not hit up the gym since Wednesday morning...I think... I have not given up my 30Day Shred challenge. I am still doing that.
Because with running, every single pound that you weigh hits your ankles and you knees. But with Jillian your constantly moving and not running. There are jumping jacks; but I just push trhough it! I want to shred some inches baby!
So this is Day 11 of the 30 Day shred and everyday I push myself harder and harder! And the feeling that I get after a 20 minute session with JM is great! Like I survived another day! And she makes me laugh on Level 2.
I was on her website last night and saw that a new workout dvd had come out:
Jillian Michaels Hard Body

I sooooo want to do this one!!! Oh mannn it looks interesting!
I've already commited in my head to try another one of her dvd's after I finish the 30Day Shred.
I also plan on resting my knee for a few more days, purchasing new shoes and then getting back into tearing up the gym!
I want to see results, I want to see muscles, I want to meet goals again.
My legs have been itching for a run...I cant stop them from bouncing (even as I type!)
I am just itching to run again.
This weekend, Jeremy is working Saturday. So since I have to get up early anyhow to fix him breakfast; then I plan to knock out my
30Day shred
and then hop on over to the gym for an 8AM Zumba class, then maybe stay for Body Pump...kinda scared about that one??!! But if I dont then, I'll do some cardio after Zumba.
Im kind of excited about the weekend. I need a break. Work has been soooooo............... irritating/frustrating/stresful/hair pulling.
So I need a break,
vacation
maybe??
So I wore this shirt to kind of hint to Jerm's...its his shirt anyways! lol..
If you cant read it (cuz its backwards...it says "I Smell Roadtrip"
Totally!
Have a happy weekend everyone!
Let's continue to make healthy decisions!!!