Ok, so today is my Very First
Weigh-In Wednesday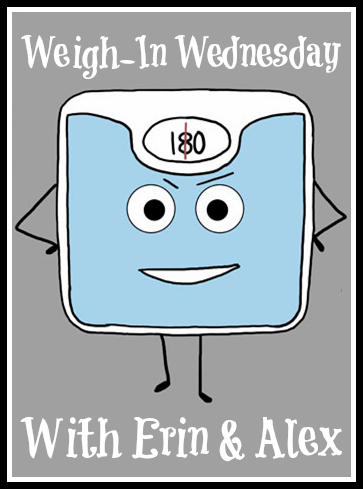 And I am super excited because; this week I have been blessed!
Im not exactly sure why, where or how...But Im doing it!
So here is my weigh in for this week:
I know your like...wait does that say
196!!!
It sure does my friends! And I am soo oober excited!
20.4

pounds GONE! And never invited back to this party...EVER AGAIN!
<---Day 1
Today 4/17/13--->
Gosh, Im so excited! I cannot wait to see this scale continue to go down! I weighed myself last night after I got out of the shower...and I just knew this morning when I woke up that I was going to hit my mark! And a whole week and a half early! Golly!
So, my workout yesterday was:
4:30 am JM 30Day Shred burned 169 Calories
And last night I went to the gym for 20Min elliptical warm up and 45 minute Zumba class
837 Calories burned!
Wowza
And my shirt was completely soaked. But I loved it! The only time I shake my booty is in Zumba! Although Jeremy would probably wish otherwise...but Maybe one day! hahaha!
Anyways, I have also been fueling my body pretty healthily lately. What I've been eating:
Breakfast:
Multi Grain Sandwich Rounds(100cal) 1Tbps Almond Butter, Squeeze of Honey
1 Cup of Black coffee with honey
Am Snack:

Fruit (Strawberries/grapes/orange) and 1/2 C Yogurt(95 cal.)
Lunch:
3 oz of chicken and about 2 oz of Brown rice with a big spinach/spring mix salad at lunch
Pm Snack:
Fiber One Bar(140 Cal) or an Orange or a Protein Bar
Dinner:
Usually something with Chicken or Stuffed Bell Peppers or Cauliflower Pizza, Ground Turkey Tacos, or Spaghetti w/Ground Turkey and always veggies!
I guzzle a crap ton of water all day long. And I only drink my protein shake after a workout to repair my muscles. Its Jay Robb Vanilla Whey Protein. I add frozen blueberries, ice, 1Tbsp Almond Butter and a few leaves of Spinach...Yummmm
So I hope that everyone is have a wonderful week so far! Its hump day and Im super excited! The weekend needs to get here FAST!
Gotta run! Well...not really..gotta get back to work! lol...